Fireplaces Articles
Covering Your Fireplace Hearth with Slate
If you want to reface your concrete fireplace hearth, one of the best materials to use is slate. Slate is a very durable stone which is attractive, easy to clean and comes in a variety of natural tones. If you decide that slate will look best combined with your other flooring materials, then you can follow the next steps.
Reminders About Gas Fireplaces
Many gas fireplaces nowadays are very efficient and well-made. They can be used for decorative purposes, heating purposes or both. If you want one for ornamental purposes, then all you have to do is choose from the wide variety of styles. However, for those who want them for heating, here are a few reminders before buying one.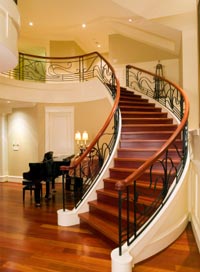 30 Nov 2010
Home Building Company Activities Accelerate in Tuolumne County - Tuolumne County, California is a good place for a home building company right now as...
2 Nov 2010
National Home Builders Celebrate Rise in New Housing Sales - New housing sales rose in the U.S. for September by 6.6% when compared with August...
8 Oct 2010
Custom Home Builders Won Pike County Award - Ed Nikles Custom Builder Inc., one of Pennsylvania's top custom home builders,...