Foundation Articles
Foundation Cracks: A Symptom of Poor Building Methods
Some owners of existing or relatively new homes and structures encounter foundation cracks that can run vertically or horizontally from ceilings to floors and even through all sides of the structure. More susceptible are basements or lower level rooms. Water and air can seep through these cracks causing water damage and other forms of inconvenience to the occupants of the home.
Types of Foundation Cracks
Foundation cracks can occur in block and concrete foundations, and usually in the corners of buildings and houses. Here are the different types and some tips for you to control the damage they can do to your home.
Covering Your Home Foundation with Stucco
An exposed concrete or concrete block foundation is not very pleasing to look at. If you want to make it more attractive, cover it with stucco.
Transforming Small Spaces to a Full Foundation
Some homeowners with two small room spaces or an abandoned cistern would want to transform these spaces into a full foundation. However, they may be turned off by high cost estimates quoted by some builders. Before you go ahead and build a new room, let us get a more honest price estimate based on current city rates.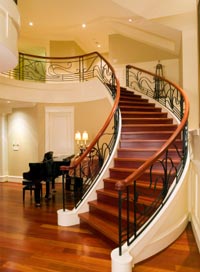 30 Nov 2010
Home Building Company Activities Accelerate in Tuolumne County - Tuolumne County, California is a good place for a home building company right now as...
2 Nov 2010
National Home Builders Celebrate Rise in New Housing Sales - New housing sales rose in the U.S. for September by 6.6% when compared with August...
8 Oct 2010
Custom Home Builders Won Pike County Award - Ed Nikles Custom Builder Inc., one of Pennsylvania's top custom home builders,...