Insulation Articles
Attic Insulation Help: Should I go for batt or blown?
Fiberglass blankets which are either blown in or batt are used for attic insulation. Both have its benefits. The important thing is how they would fit your abilities and budget. Read on to know a few points that you have to consider.
Basic Facts About Insulation
Insulation is one of the home construction materials that is consistently developed by manufacturers over time. Millions of dollars are spent periodically for research and development of simple insulation materials like fiberglass and cellulose, giving way to significant innovations.
Cellulose or Fiberglass Insulation?
There have been quite a few concerns raised over the advantages and disadvantages of using cellulose and fiberglass insulation. Let this simple FAQ help you decide which one to choose.
Guidelines for Successfully Installing Insulation
Insulation is an important part of any home. Though it may seem complicated, installing insulation is plain and simple and can be done without any professional help. It does not require any special equipment that cannot be usually found in a household.
Heat and Insulation
Insulation is a home installation that slows down the movement of heat from a hot section to a cooler part of the house. Insulation is important as it provides a stable temperature in your home.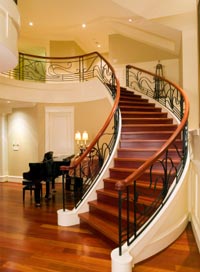 30 Nov 2010
Home Building Company Activities Accelerate in Tuolumne County - Tuolumne County, California is a good place for a home building company right now as...
2 Nov 2010
National Home Builders Celebrate Rise in New Housing Sales - New housing sales rose in the U.S. for September by 6.6% when compared with August...
8 Oct 2010
Custom Home Builders Won Pike County Award - Ed Nikles Custom Builder Inc., one of Pennsylvania's top custom home builders,...