Interior Walls Articles
Choosing Beams to Support Your Load-Bearing Interior Wall
When choosing and installing the beams and columns that support the load-bearing interior walls of your house, you must ask a structural engineer to help you. Since these beams, columns and interior walls support parts of the overall structure of your house, it is necessary that you get the right materials at the right sizes and install them at the right locations. The cost of hiring a structural engineer will ultimately pay off in terms of homeowner safety and durability of the house.
Creating Your Home Office With Temporary Interior Walls
Creating a home office in a rental house is a challenge because your landlord would not want you causing him costly repairs when you end the lease contract.
Make Your Interior Walls Unique: Install Wainscoting
You can make plain interior walls interesting by installing wainscoting. You can buy wainscoting made with engineered wood or blends of solid wood, plywood and hardwood veneers. You can also make your own by combining wood moldings and traditional rail moldings.
Replacing Your Load Bearing Interior Wall With a Beam
Replacing a load bearing interior wall with a beam to make your room more spacious is a major structural alteration. You need to hire a structural engineer to examine you interior wall, compute the loads, make a temporary support plan, size the columns and the new beam and recommend materials and a beam installation procedure.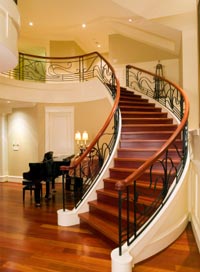 30 Nov 2010
Home Building Company Activities Accelerate in Tuolumne County - Tuolumne County, California is a good place for a home building company right now as...
2 Nov 2010
National Home Builders Celebrate Rise in New Housing Sales - New housing sales rose in the U.S. for September by 6.6% when compared with August...
8 Oct 2010
Custom Home Builders Won Pike County Award - Ed Nikles Custom Builder Inc., one of Pennsylvania's top custom home builders,...