Structural Articles
How to Identify Load Bearing Walls and Avoid Structural Problems
What are load bearing walls?
Load bearing walls are structural elements in your house that carry and transfer load from one area to another. If your house is well-designed, then the load should be transmitted to other parts of the foundation such as the concrete footer supporting a post or column.
Using Structural Trusses
Nowadays, a structural engineer with the aid of some sophisticated software can customize your roof truss for you. There are many truss designs, some of which are highly specialized, and some of which you do not even need. Here are a few you can choose from.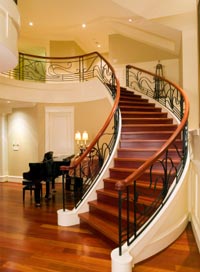 30 Nov 2010
Home Building Company Activities Accelerate in Tuolumne County - Tuolumne County, California is a good place for a home building company right now as...
2 Nov 2010
National Home Builders Celebrate Rise in New Housing Sales - New housing sales rose in the U.S. for September by 6.6% when compared with August...
8 Oct 2010
Custom Home Builders Won Pike County Award - Ed Nikles Custom Builder Inc., one of Pennsylvania's top custom home builders,...