Air Conditioner Performance
Some homeowners experience poor air conditioning performance. In most cases, they notice that some of the rooms in their homes are too warm while the others are too cold. This inconsistency can be due to many reasons but rest assured that they can be fixed. The important thing is determining which of these possible reasons is causing the problem.
Incorrect Sizing – the process of cooling the air actually involves three important air conditioner parts: the coil responsible for cooling the air, the fan located inside the air handler and the condensing unit. If any of these parts are sized wrong, you will certainly experience cooling problems.
Low Refrigerant – a professional technician can check this out easily.
Dirty Coil – if the coil located in the air handler attracts too much dirt, its cooling capacity is affected.
Ductwork Design – it is possible that the air ducts in your home are too large or bends abruptly.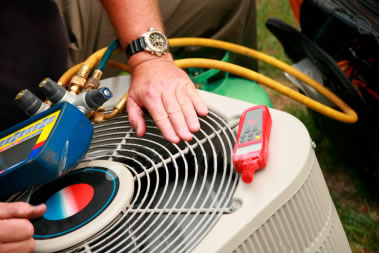 For older homes, there could be concerns of central air conditioner performance especially if there are no air ducts to work with. One solution is by purchasing an air conditioner unit that utilizes a flexible piping system. It would be easy to snake the pipes through the different rooms. If you are worried about how they would look, you can cover the pipes with nice-looking cover plates.
Installing this central air conditioning system for older homes will certainly require a professional in order to ensure noise reduction as the cool air passes throughout your home during the summer months.
As for the colder months, a heat pump will be effective in removing the chill from the rooms. If the home is currently working with a hot water heater system, the presence of the heat pump will minimize the operating hours of the boiler.
Knowing the ins and outs of your air conditioner unit will certainly make it easier for you to address problems and concerns. There are books that will explain to you in simple terms how the heating and cooling system in your home works. As always, you can ask a professional HVAC technician.
Find Home Builders in the Top States