Engineered Wood Articles
Comparing Plywood and OSB
Plywood can be made from around 70 species of wood. Basically, it is made from logs that are shaved into thin strips. These strips are allowed to dry and are then graded. Afterwards, the wood strips are put together with the use of adhesive and then put in a hot press. The hot press result to a strong bond as adhesive penetrates every fiber of the wood when heated.
Plywood Against OSB: Which Is More Durable?
Hurricane Katrina had adverse effects to the country particularly on buildings and structures. After the disaster, a lot of homeowners had to rebuild their homes. This has led many to ask -- which material should be used in home construction in order to ensure protection from calamities like hurricane?
Wood I Joists Facts
One construction material that is gaining popularity is wood I joist. Engineered wood like wood I joists are environmentally safe. The trees where raw lumber come from are planted and harvested in forests that are used commercially because of their suitability for repeated planting. Figures show that the trees planted outnumber those which are harvested. Around 3 million trees are planted everyday, ensuring a sustainable supply of lumber.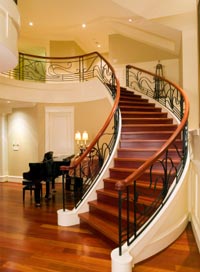 30 Nov 2010
Home Building Company Activities Accelerate in Tuolumne County - Tuolumne County, California is a good place for a home building company right now as...
2 Nov 2010
National Home Builders Celebrate Rise in New Housing Sales - New housing sales rose in the U.S. for September by 6.6% when compared with August...
8 Oct 2010
Custom Home Builders Won Pike County Award - Ed Nikles Custom Builder Inc., one of Pennsylvania's top custom home builders,...