Home Security Articles
Home Security and Safety and Common Sense
There are lots of things, big and small, that you can do to ensure your home security and safety. But most of them are actually just exercise of common sense. They are in the back of your mind. You just have to take the time to do them.
Complementing Home Security Cameras With a DVR
As we all know, we can not monitor the home security cameras every moment of our waking lives. We have many other things to do. Here is where digital video recorders or DVRs take over for us.
Enhancing Your Home Security With Security Cameras
For some homeowners, security cameras are an addition to their previously installed home security systems. For others, these cameras are the central elements of their security systems. Either way, security cameras enable homeowners to view images of what is happening inside and outside their homes at any moment in time while they are inside the premises or while they are far away from home.
Wireless Home Security Systems Take Away Your Worries
The number of homeowners installing wireless home security systems has been increasing since the time wireless technology was developed for the home. Wireless security systems enable them to monitor their homes and respond to threats while they are working or traveling.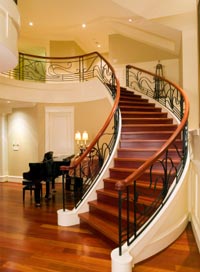 30 Nov 2010
Home Building Company Activities Accelerate in Tuolumne County - Tuolumne County, California is a good place for a home building company right now as...
2 Nov 2010
National Home Builders Celebrate Rise in New Housing Sales - New housing sales rose in the U.S. for September by 6.6% when compared with August...
8 Oct 2010
Custom Home Builders Won Pike County Award - Ed Nikles Custom Builder Inc., one of Pennsylvania's top custom home builders,...